After starring in six episodes the role of Larry Blaisdell, Larry Bagby left the Buffy movie sets, with his experience on the show and wanting to keep in touch with his fans.
For « Buffy Angel Show » Larry Bagby agreed to be interviewed and returned to his role in the series and its film memorabilia. He reveals how he got the role, and his reaction when he learned that Larry would become a homosexual character.
.
Your first recurring role on Television was in Buffy with the character of Larry Blaisdell. Do you think that this has facilitated the continuation of your career ?
Yeah I do it in many ways.
It was cast as a one time roll Larry the football player and I didn't realize how big the show would become. So yeah over the years I've had fans from my recurring role on Buffy including fans that became casting directors and producers and directors for other roles that I would play because of the notoriety of the shows success.  
Could you tell us how you got the role of Larry Blaisdell ? Was it a role meant to be recurrent ?
it wasn't originally recurring it came after my work as Larry in the first episode I did .as far as getting the role I always felt like it was my role from the get go because Larry is my real name too !   
Did you know at the beginning of the show that your character was homosexual or was it integrated later ?
A little while later after that first Halloween episode I appeared in they ask if I would consider a recurring role as Larry Blaisdell another role that was now being turned into the original Larry role but I was to be gay in the episodes to come. Joss wanted to make sure I was okay with portraying the role as a gay guy on tv. I felt fine with that. I am a strait male but have many friends who are gay and I respect their stance and preference.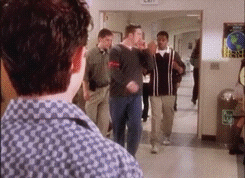 Do you remember the death of your character ? Did that affect you ? Would you have liked to shoot in more episodes ?
I Do. Yeah after doing 6 episodes I received the next script for the big Buffy graduation day I read that Larry the gay football player was shooting his flame thrower and destroyed by the Mayor who turns into a big dragon and he whips me with his tail and I'm done.
I was bummed but knew I was going out with a bang so that was cool way to be remembered.
Do you have on set anecdotes to share with us ?
Working on set was always pleasant and fun and interesting. Something nice that stands out is Sara Michelle Gellar got me and my wife at the time a nice wedding gift and was very kind to do that which was unexpected.  
We notice that your current career is very much oriented towards music. IIs this a new way or have you always been a musician ? Can you tell us more about this passion ?
Music has always been a past time and hobby but after getting the role as Marshall grant in Walk The Line I started taking my music more serious and have loved performing and writing and producing my own material for years now.
I still love acting and am doing all I can with both these days.    
What are current and future projects ?
Just finished my new album Country By The Sea and I'm proud of that work that is to be released in September. I will also be planning some tour dates and seeking new work as an actor but nothing slated as of yet !
have you ever been to France ? And will we have the chance to see you in the convention soon ?
I've never been to France or Europe ever !
If I get invited ( hint hint ) then I would love to go to that convention. Put the word out that I would be happy to join in on any conventions for Buffy or Hocus Pocus events !